Reducing Hospital Readmissions: How Getting Personal With Patient Engagement Can Help
A PatientBond Case Study - As Seen in Telehealth & Medicine Today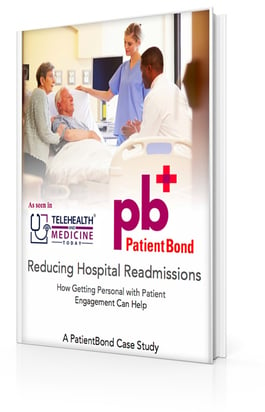 Readmission penalties on hospitals hit a new high in 2016, increasing by a fifthover 2015 numbers to $528 million. Changes in how the rehospitalization rate in calculated influenced the jump in penalties. But that's not the only factor capable of influencing 30-day readmissions:
Patient engagement efforts often fall short, too.
How can hospitals use patient engagement technology to change patient behavior and reduce readmissions?
Download our case study to learn:
How hospitals can use psychographic segmentation to crack the code to encouraging greater patient engagement
Which psychographic segment of healthcare consumers is mostly likely to experience issues related to hospital readmissions
How a prestigious New England hospital system experienced just one readmission for a form of spine surgery and reduced nurse FTEs dedicated to patient follow-up by more that 75 percent after using PatientBond to establish a proactive, personalized patient engagement workflow.